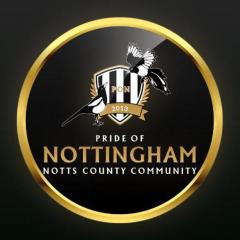 The inevitable has finally been confirmed. After nine months of mostly hell interspersed with slivers of hope, right into midway through the final match of the season, Notts County have been relegated from the Football League.
That it went into the final day meant that sliver of hope, that "what if" always stayed, but as the old adage goes, "it's the hope that kills you", so now it's done and there is a little more clarity going forward, the relevant process of fixing this catastrophe can begin.
Notts County's final game in League Two - for the time being, we hope - was a 3-1 loss at Swindon Town, and for a period, with the Magpies leading through Kane Hemmings' penalty and Macclesfield a goal down at Cambridge, that hope resurfaced again.
But then, the culmination of the previous 45 games, all the off-the-pitch issues, the old problems that have beset the Notts team all season, and the reality of the permutations of the Macclesfield fixture - they had something to play for, the visitors didn't - meant that hope soon evaporated.
Pride of Nottingham was at the County Ground for Notts v Swindon. Check out our Faces of PON to see if you're in our gallery.
Share your thoughts about this gallery on Pride of Nottingham by signing up to the website, visiting the forum and joining in the chat with hundreds of fellow Notts County fans.
Fancy showcasing your brand or business on Pride of Nottingham? Click here to find out more about sponsorship and advertising opportunities with us.