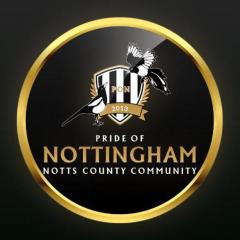 Notts County youngster Tyreace Palmer has signed his first professional contract with the club after signing for the academy 11-years-ago.
The 18-year-old striker has featured as part of the Notts youth team that went on to win the EFL Youth Alliance league in 2020/2021 and made his professional debut last season against Havant & Waterlooville in the FA Trophy.
Head Coach Ian Burchnall, believes that Palmer should be a part of his side after scooping the Youth Team Player of the Year, having put in good performances and a strong goalscoring record.
Via the official website he said: "Tyreace has been at the football club for a long time now.
"We're pleased to give him the platform to express himself. while he's also got a lot of development to come, I think he's got potential as a goal scorer and being around our squad on a daily basis is only going to help him."
The magpies offered Palmer a professional deal back on the 14th of May 2021, and yesterday the club announced that the young prospect had signed.
Speaking on his new deal, Tyreace Palmer said: "I'm over the moon, its something I've been dreaming for since I've been at the club over 10 years, so I'm really pleased to get it over the line.
"I've been here since I was 6 or 7 years old, i signed that young and ever since I have just progressed through the age groups and I've just managed to get my contract every year." he added.
"I've been top goal scorer most years, for the under 18's two years in a row. I enjoy it, I love scoring, not a better feeling than scoring. The first week I came in, I was finding it a bit tough to get into the tempo and the physicality but from that I've really got to grips with it and I've really been impressed with how I've been progressed with training. 
"Before my injury I was doing really well but I will have to come back stronger in the next season. I've got a micro fracture in my knee, I've been on crutches for 4 weeks. I've got rehab to do when I come back on the 12th and hopefully I won't be too long till I'm back playing.
"I'm hoping to go out on loan and get some men's football, get experience and hopefully do well out there, come back and be fighting for the bench or starting 11 if I can."
Discuss the Notts County retained list over in the Pride of Nottingham forum - share your thoughts on the renewals and departures.
Fancy showcasing your brand or business on Pride of Nottingham? Click here to find out more about sponsorship and advertising opportunities with us.