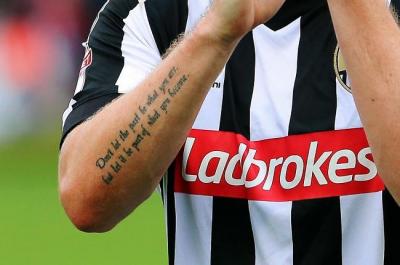 Carl Dickinson has revealed that he would get so miserable during Notts County's 10-match losing run in League Two that he couldn't even speak to his family after games.
The Magpies lost every single league fixture between November 12, a 4-0 defeat at Blackpool, until January 7, a 4-1 loss at Morecambe.
The rot was stopped with a goalless home draw with Mansfield Town on January 14, and 10 weeks later, Notts are a different proposition entirely, on the brink of safety with a 13-point cushion between themselves and the bottom two.
"It was horrible," Dickinson recalled to the Nottingham Post. "I would spend car journeys with my family when I wouldn't say a word to them because what we were going through would ruin my weekend.
"I wouldn't say anything to the missus or the kids and I certainly didn't want to be near them after a game if it had not gone well. It would kill me on the inside because the defeats were happening every week.
"I don't think my missus has ever seen me like it. It might be different for the others, but, for me, training is all designed to win a game of football at the end of the week.
"If you don't perform and don't win, it feels like you've gone through the week only to mess it all up when it comes to the crunch.
"I am a positive person, but when you've lost the following 24 hours ruin you. On the Sunday you are thinking about the game and I must admit the club was in a low place."
Share your thoughts about this news story on Pride of Nottingham by signing up to the website, visiting the forum and joining in the chat with hundreds of fellow Notts County fans.