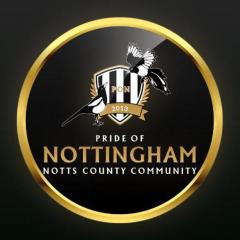 Midfielder Jim O'Brien has agreed a new two-year-deal with Notts County.
The experienced 33-year-old is the longest-serving member of the squad, after Enzio Boldewijn's release earlier this summer.
He arrived at Meadow Lane in January 2019, quickly becoming a firm fans favourite for his heroics and passion on the field.
Speaking to the Notts County media team, Ian Burchnall said: "I've been hugely impressed with Jim's attitude and ability since my arrival at the club, he's got terrific energy and I think you could see how much we missed him when he picked up a couple of really unfortunate injuries towards the end of last season.
"Importantly, he understands how we want to play which gives us continuity going into the new campaign."
With Michael Doyle having agreed to become the magpies' assistant head coach, the extension has been described as 'providing continuity in the middle of the park'.
Speaking about having signed a new two-year-deal, Jim O'Brien said: "I'm buzzing, really happy. Not long after the manager came in, i had a sit down with him and told him my plans that i didn't want to go anywhere,
"I wanted to be here, so just to get it done is a bit of a weight off my shoulders." He added.
"The two-year deal doesn't take away the fact that I'm here and your focused on the job at hand. We know where we want to go and you don't take your foot off the gas just because you've got a two-year deal.
"I think the messages were clear in the meetings we had, get as many bodies in the box as possible. The way we play we controlled possession, it allowed me to do that. The messages we had in training, the shape, the rotations and the runs. It was all very clear towards the training."
What are your thoughts on Lewis Knight's role leading into the 2021/2022 National League season? Join the discussion on PON.
Fancy showcasing your brand or business on Pride of Nottingham? Click here to find out more about sponsorship and advertising opportunities with us.