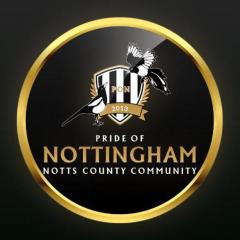 Notts County has confirmed the arrival of former Manchester City and Torquay United attacking wide man Arron Nemane on a two-year-deal.
The French born 23-year-old winger arrives at Meadow Lane after the magpies successfully agreed compensation with Torquay to acquire his services.
He joins former Plainmoor team-mate Kyle Cameron, who also joined Notts after opting to start a fresh challenge.
Notts County head coach, Ian Burchnall said: "Aaron is one of the quickest players in the league,
"He's very good one-against-one and can play as a winger in a 3-4-3, as a wing back or even as a number 10. He's a different type of wide player to what we've got at the moment. 
"Aaron is direct in his running and likes to get in behind to stretch the play. He'll add something different to our attacking patterns and will be particularly useful when we're up against teams who are defending with a low block as we'll need players with pace and skill to open them up." He added.
"He suffered an injury towards the end of last season and, while he's put that behind him now, he's going to focus on some gym work initially before joining up with the boys on the grass and being in contention for any friendlies."
Nemane believes he brings creative flair to the Notts squad, with his direct attacking player which sees him use his speed and skill to cause opposition players trouble.
"I'm as comfortable playing Maidenhead away as I was playing at Real Madrid in the Youth Champions League, It was a good experience playing against massive teams." Aaron Nemane said. 
"I'm here now, and I've adapted to it, we played Notts three times last season and I like their style. They struck me as a very good side, and it's a massive club, so it was a no-brainer for me to come here.
"I'm not far off, I just need to keep working in the gym and then hopefully I'll be back to full fitness very soon." He added.
"I can't wait to get on the ball, take players on and create chances. 
I want to add more goals to my game, along with assists, and that's what I'm going to try and do this season. I'll do my best wherever the manager puts me, but I'm comfortable out wide and in more central positions. 
"We'll just have to wait and see! I've played with Ed quite a few times when he played up the age groups at City, he's technically gifted and will definitely be a good addition to the team."
What are your thoughts on Lewis Knight's role leading into the 2021/2022 National League season? Join the discussion on PON.
Fancy showcasing your brand or business on Pride of Nottingham? Click here to find out more about sponsorship and advertising opportunities with us.