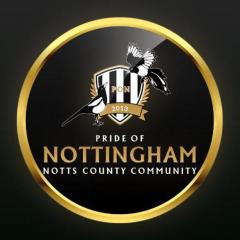 Notts County's head coach Ian Burchnall has opened up on his thoughts on the teams return to training this past week.
The club is preparing to get the players match fit again, as they begin their pre-season this weekend against Coalville Town. 
Telford United, Boston United, Derby County, York City and Tamworth are all lined-up, with a potential game against National League rivals Solihull Moors.
Meanwhile, the squad has settled into the training and new signings Kyle Cameron and Joel Taylor earned praise for their work outside of the season - with Burchnall declaring 'both have obviously done a lot of work in the off-season and brought a new energy into the group'.
Magpies' Head coach, Ian Burchnall said: "You know, as much as you finish the season, 
"I think you need a break or Monday away - a couple of days, and I'm like missing being here and training with the lads. So it's great to be back with the nice weather and the players are working extremely hard. 
"So it's great fun to be back." he added.
"We want to get the kind of the ground level of fitness that's going to sustain us throughout the season. And that's really important to kind of bed that down so that the volume and the running is a lot. But in my eyes, you can do that everything with a ball, you can bring the ball in and still gain what we want physically from it and still get elements of the technical bits in as well. 
"So for me, the players are working really, really hard, but we get the ball out. And I think that also motivates you to work that little bit harder as well. So yeah, the first few days have been great."
Before explaining further: "I mean, just for them to be able to train a few days without kind of the pressure of everything being out there in the public domain. 
"Certainly we will have a few extra players and some try lists and bodies that we want to look at, in a bit more detail at the game at the weekend." He added. 
"Probably through into next week as well. Carl Roberts looks strong today. He did three, four sessions from him, you look great today. 
"We'll see how it goes on Friday. And whether or not we use him in the game this weekend. Not necessarily that important. But most important is to get a good week out, get some feedback from his body and see where he's at. But really positive today."
Head over to the Pride of Nottingham forum to discuss the pre-season friendlies ahead of the 2021/2022 National League Season.
Fancy showcasing your brand or business on Pride of Nottingham? Click here to find out more about sponsorship and advertising opportunities with us.