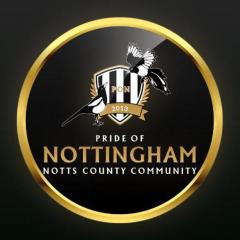 Kevin Nolan has spoken highly of Notts County academy product Dongda He and is confident of the club bringing through youngsters of high pedigree in the coming years.
The Magpies have experienced a drought in talented academy players coming through the ranks to establish themselves in the senior team, with only Curtis Thompson and Haydn Hollis having made the breakthrough recently.
However, with He looking like a real talent and the likes of Remaye Campbell, Pierce Bird, Alex Howes and new recruits Tom Crawford and Will Patching, the future is looking bright for those in black and white.
"It's fantastic. It's been a while coming," Nolan told the Nottingham Post. "With Dongda, we only just got his visa a few weeks ago, but we've got high hopes for him.
"There's a number of young lads in our system who we feel can make an impact. Tom Crawford, who we got from Chester, you can see he's got a brilliant attitude. Alex Howes, young Spike, has been great.
"We've got high hopes for a few of them. We'll see them in and around the first team more this season because the squad is a lot younger than last season. They'll get chances during the season."
Focusing on He, Nolan added: "Dongda did really well. It took him a little bit of time to get used to the game, but we expected that as he's only been training with us for a week or two," he said.
"He's got real ability and we'd like to release that at some point. He's under no pressure though. None at all. We want to create an environment where he can thrive here."
Share your thoughts about this news story on Pride of Nottingham by signing up to the website, visiting the forum and joining in the chat with hundreds of fellow Notts County fans.
Fancy showcasing your brand or business on Pride of Nottingham? Click here to find out more about sponsorship and advertising opportunities with us.