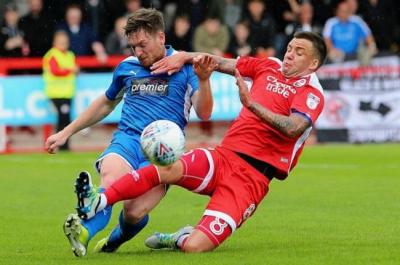 Kevin Nolan has claimed that Matt Tootle is well worthy of winning the Notts County Fans' Player of the Year award and reiterated his wholehearted support for the full-back.
Tootle has enjoyed a superb season in the black and white stripes thanks to his displays which combined dynamism with consistency.
The 27-year-old is also a fan favourite thanks to his eccentric, loveable personality, as shown by his quirky "slug" goal celebration which he has used several times this season after chipping in with a few strikes.
Off the pitch, Tootle has also raised awareness of mental health issues, having faced and overcome his own battles, which has inspired and helped out many people within the football sphere.
"The award was well deserved," Nolan told the Nottingham Post.
"We've had some outstanding performances and players all season long and Toots comes into that category.
"I am absolutely delighted he has taken a weight off his shoulders in respect of talking about mental health and what he's been through.
"He's now raising awareness of how easily your mental health can come into the game and how hard it is.
"I am behind him 110 per cent behind him and he knows that. I feel that we've got a special bond which will go on past Notts when he moves higher up. I'll always be there for him to call me if needed."
Share your thoughts about this news story on Pride of Nottingham by signing up to the website, visiting the forum and joining in the chat with hundreds of fellow Notts County fans.
Fancy showcasing your brand or business on Pride of Nottingham? Click here to find out more about sponsorship and advertising opportunities with us.