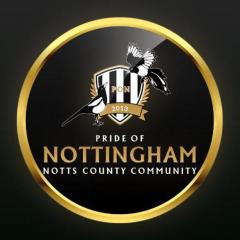 Noor Husin has claimed that Notts County's playoff heartache last season will prove a superb incentive for the Magpies to get the promotion job done this time round.
Notts were in and around the League Two's top three for much of the 2017-18 campaign but stuttered in the final few months to finish in the playoffs, which they subsequently lost to eventual winners Coventry City.
"Last season will only make us stronger and the boys know what it takes now," Husin told the Nottingham Post. "Hopefully we can go a step further and get that promotion everybody is after.
"Everyone was bitterly disappointed with how last season ended after doing so well. But it's only going to spur us on to go up and I am sure that will give us that extra bit of motivation we need."
Husin has also spoken of his international call-up with Afghanistan, expressing pride at being convoked by his nation, but he says he will put club before country this month.
"I have been called up by Afghanistan, but they have a friendly in a couple of weeks' time [against Palestine on August 19] which I am not going to," he said. "But when there is an international break I think I will be going.
"I was called up a couple of years ago, but I put it on hold at the time. I am delighted to be called up and my family are proud. I am really looking forward to it. The games are going to be in Qatar, China and places like that.
"They keep track of me and I speak to the manager who has just been appointed. He used to coach in the Dutch league. He's been watching my games and they keep an eye on me to see how I am getting on."
Share your thoughts about this news story on Pride of Nottingham by signing up to the website, visiting the forum and joining in the chat with hundreds of fellow Notts County fans.
Fancy showcasing your brand or business on Pride of Nottingham? Click here to find out more about sponsorship and advertising opportunities with us.