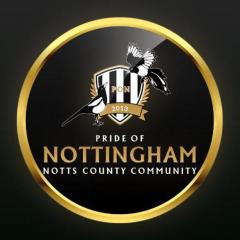 Notts County defender Adam Chicksen has agreed a new contract believed to be a-year-deal.
Chicksen found himself as part of Ian Burchnall's three-man defence, where he earned praise from the magpie fans' for his display leading into the play-offs and against Chesterfield.
The 29-year-old has put pen to paper after his previous deal expired and it is thought that the defender will be part of the head coaches plans leading into the 2021/2022 National League season.
Via the official site, Ian Burchnall said "Adam played a huge role in our strong run into the play-offs and brings invaluable versatility to the squad, As we've seen, he's comfortable in the left of a back three.
"He can also play as a full back and wing back. He has the footballing intelligence to adapt to different systems."
Chicksen's extension will see him fall alongside Kyle Cameron who joined earlier last week from Torquay United, Connell Rawlinson and Alex Lacey - who will all contend for the 3 defensive spaces in Ian Burchnall's team.
Adam Chicksen said about his new deal at Meadow Lane: "I'm delighted, probably my smile tells a lot. 
"Yeah obviously the back end of the season was so enjoyable, it was so easy for me to want to stay and really happy that the club wanted me to stay and that my performances are merited a contract." he added 
"Really happy that it paid off and really happy to get it done and to get my head down and start putting in more performances.
"Probably more belief in myself and more standards for myself"
Before going on to say: "Just having everything put on myself and asking questions of myself, it all fell on myself, 
"I put it all to falling back on my shoulders, my standards of what i needed to do to get everyone else out of the equation. I started asking myself am i giving everything daily, in training, in games and once i started doing that it seemed to come round full circle."
Head over to the Pride of Nottingham forum to discuss the pre-season friendlies ahead of the 2021/2022 National League Season.
Fancy showcasing your brand or business on Pride of Nottingham? Click here to find out more about sponsorship and advertising opportunities with us.