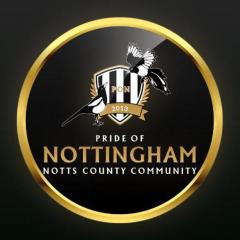 Notts County head coach Ian Burchnall has spoken about adding at least four more signings to his side before the start of the 2021/22 National League season.
The magpies boss hasn't ruled out paying further transfer fees, after Notts completed the purchase of wing-back Joel Taylor from close rivals Chesterfield yesterday.
Having signed their third summer recruit, with defender Kyle Cameron first arriving and then Frank Vincent - both of which arrived as free agents. Burchnall insists that more signings are on the way, as the club once again challenges for promotion back to the Football League.
Speaking to the Nottingham Evening Post, Ian Burchnall said "We need some options in the middle.
"We know we need midfielders in and more options upfront as well. You can jump on the first thing that comes up or do we take our time and be measured and understand that it's a strange window at the moment." he added
"There's a lot of players and a lot of clubs in different situations so things have taken a bit longer than probably we thought it would.
"In an ideal world you have everybody in on day one of pre-season, but it looks like it will probably take another week or so before I feel like we're more or less done."
Further adding: "I think it really depends on the player, the circumstance and the overall package. 
"We have to take all of those pieces into consideration. So no, it's not necessarily only free transfers. We take the full package really and assess from there."
Notts County prepares for the start of their pre-season, with a trip to local side Coalville Town this Saturday.
What are your thoughts on Lewis Knight's role leading into the 2021/2022 National League season? Join the discussion on PON.
Fancy showcasing your brand or business on Pride of Nottingham? Click here to find out more about sponsorship and advertising opportunities with us.