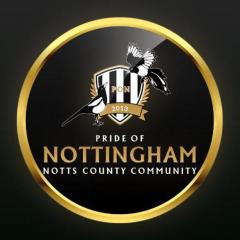 Notts County has increased their transfer hunt as the magpies take on two trialists who are expected to feature in Saturday's pre-season friendly against Coalville Town.
Both players have been part of the training sessions, with head coach Ian Burchnall confirming that they're midfielders.
Summer signing Frank Vincent is currently carrying a knock, which is expected to rule him out of pre-season games for a couple of weeks. 
Notts are yet to further strengthen their midfield, after Jake Reeves departed for the Football League having joined Stevenage and assistant head coach Michael Doyle taking up more of a coaching role.
Speaking to the Nottingham Evening Post, head coach Ian Burchnall said: "We've got two in at the minute, and then we'll probably have a couple more Friday and then in the game to help us out, and also it will be for us to have a look at them.
"They're interesting players so the profiles are interesting, but they're ones that maybe we can't get as much information about them as we'd like and then you have to see them first-hand.
"They are midfielders, but we will look at maybe attacking options as well." He added.
"I mean, you take the stature of somebody like that and I thought he was an outstanding player for Torquay last season. To be able to bring him in given his age and where he is in his development, I think it's fantastic for us.
"He's going to be a really good player. Frank Vincent has come in and sadly isn't 100 per cent fit. He needs a few weeks just to recover from a knee injury.
"But I've seen enough of him to see that he's a very good football player. And again, young, ready to develop. Then we signed Joel, and he is going to give us something in that wide area."
Further adding: "He has pace, that directness, that one v one. So far I am happy with the kind of profile, the age of the players and there's going to be more to come as well."
Join in the discussion re: Coalville Town friendly and the trialists expected to make an appearance.:
Fancy showcasing your brand or business on Pride of Nottingham? Click here to find out more about sponsorship and advertising opportunities with us.