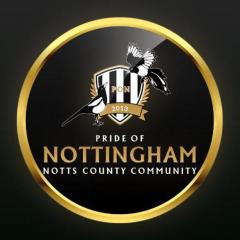 Notts County manager, Ian Burchnall had to patch up his side after the club was hit with several injuries to his first-team.
Defender's Connell Rawlinson and, Kyle Cameron both suffering injuries which saw the magpies' bring in Ciaran Brennan, despite the return to popular centre back Alex Lacey who has since picked up a knock himself.
The injuries coincided with a run of poor form for Notts, as they lost 3 games back-to-back, but magpies boss Ian Burchnall has cause for celebration with several key players close to making their full return.
"I expect him back by the Stockport game," said Notts County, head coach Ian Burchnall. 
"I hope so, but we have to just scan the knee, he took a bad blow on the knee a few weeks ago, and we've kind of patched him up, because you know Connell Rawlinson has been away with his injury and, Kyle Cameron has been away.  
"Alex Lacey was probably the lowest risk to get back on the pitch but after those two games in quick succession, he was really struggling on Wednesday, so we just decided that we couldn't risk it today we had to rest him." He added,
"Hopefully that we can give him now, maybe the FA Cup game off and prepare him for Stockport.
"Connell Rawlinson should be back ready for the FA Cup game, Kyle Cameron's back, he came through that really well."
Due to an injury to Sam Slocombe, Notts brought in highly-rated youngster Anthony Patterson. Although the injury to Slocombe was picked up in training and, considered to not be serious, the magpies' acted swift to bring in cover for the suspected 3-week absence of the regular shot-stopper.
"Sam Slocombe should be back as well, so it's starting to look bright from that front, but again you know Adam Chicksen's playing through, He's got a bad rib injury, he came off. 
"To be honest, he was in a lot of pain before the game." 
Before expanding "I think against Woking he fell into the post and, we don't know if it's broken or not.
"It's very, very sore in the ribs and, he's playing through the pain barrier for us. So we had to get him off, it was too much by the end and, hopefully we can give him a rest now.
"Joel Taylor pulled up with just a tight groin yesterday, so again, we need to treat him with Adam Chicksen struggling, a little bit. We hope that we can get him back ready for the FA Cup."
Check out the latest Pride of Nottingham T-Shirt range, which is available from our online web store!:
Fancy showcasing your brand or business on Pride of Nottingham? Click here to find out more about sponsorship and advertising opportunities with us.