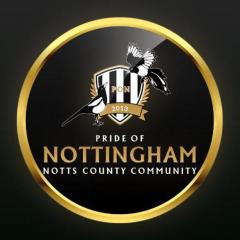 Notts County ace Cal Roberts has discussed his return to football after being sidelined during last season.
The North Shields born winger, who progressed through the Newcastle United academy has become a popular figure within the magpies ranks after leaving Blyth Spartans in January 2020.
After returning from injury against Hartlepool United as a substitute, Roberts only lasted a few minutes before limping off. However, the midfielder has spent his time out wisely focusing on regaining strength after having an operation.
Speaking on the official clubs' website, Head of Medical Services Marco Ferreira said: "That was the main goal and it was the decision after Hartlepool to take Cal off to prepare for the play-offs and the new season.
"We started again from 0 building confidence and building strength, and he's back on grass so its one step closer. We will build him to where he can join the lads in pre-season."
The 24-year-old vowed to come back stronger, after suffering on and off with injuries during the 2020/2021 National League season.
Speaking about his return to training Cal Roberts said: "You never lose it, although you lose fitness. Yeah, it's nice to get back out but yeah like you said, I'm blown but yeah it's nice to get my legs back going again, hopefully be alright for pre-season.
"It's obviously nice to have a bit of time back at home but I think with the season I've had I'd rather be in and get fit and it's been a really tough year. 
"I've learnt a lot about myself and I've learnt a lot about my body. Over the past 8, 9 10 months, whatever it's been sometimes I've probably pushed myself a little bit too hard when i probably should've taken a step back. So this time we'll do things when I'm ready and confident to do the next step." he added.
"We've seen the best people possible and had one of the best surgeries around, so I'm confident its worked and through the exercise that i used to get pain on, I'm not getting the pain any more.
"Obviously i wouldn't know till i start striking a ball which will probably be in the next couple of weeks."
It is unclear if Roberts will feature in any of the pre-season fixtures, as Notts County Head Coach Ian Burchnall might choose to ease him into action within the league campaign.
What are your thoughts on Lewis Knight's role leading into the 2021/2022 National League season? Join the discussion on PON.
Fancy showcasing your brand or business on Pride of Nottingham? Click here to find out more about sponsorship and advertising opportunities with us.