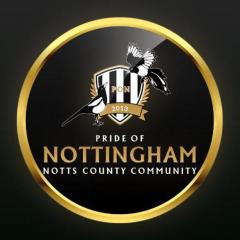 Notts County's latest recruit Joel Taylor has expressed his delight with signing with the magpies'.
The club returned to training this past Tuesday, with the squad heading back to Meadow Lane after a few weeks off at the end of the last campaign.
The 25-year-old wing back praised the clubs training facilities and the playing surface, as preparation begins for their pre-season games.
Speaking in relation to his first training session, Joel Taylor said: "I do like [the training facilities], 
"Very nice training ground, it's nice to play football."
Before adding: "Yeah, I mean, in pre-season, I know, it's about getting fit and getting back to match fitness. But when you're doing it with the balls, it makes our session a lot more enjoyable than just running around a pitch and whatnot. 
"So with this gaffer we can see he likes to play. So a lot of the running is done with the balls, which again, all players love doing that. So with the ball is obviously the best thing."
With a return to training, Taylor met his team-mates for the first time since signing with the club.
"Yeah. I mean, I met with the lads yesterday when I signed. 
"Well the majority of them anyway, and yeah they seemed sound - just welcomed me into the group straight off. And I feel like a part of the group already.
"I want to come here, help the team progress and get back to where they need to be, but ultimately within myself as well" He added.
"Very, very, very excited. Like I said last season, I think we played a handful of games in front of fans. 
"So getting the fans back in especially at the Meadow Lane, where it's a big crowd. So yeah, I can't wait for the fans to come back in and play in front of them."
Joel Taylor is expected to make his first appearance in a Notts County shirt, in Saturday's friendly against Coalville Town.
Discuss Notts County's third summer signing, Joel Taylor with the fans' inside the Pride of Nottingham forum.
Fancy showcasing your brand or business on Pride of Nottingham? Click here to find out more about sponsorship and advertising opportunities with us.