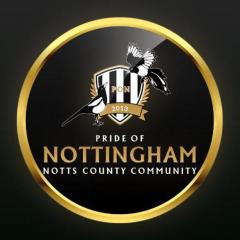 What a summer it's been so far. Not only are England in the quarter-finals of the World Cup after actually winning a penalty shootout, but Notts County have followed up their playoff finish last season with one of the best and most promising transfer windows since the Munto era.
With the Alan Hardy era having delivered steady progress since January 2017 and going from strength to strength, it looks as though the Magpies are forging a team of winners as opposed to the perennial losers of yesteryear.
And given that Notts are going up in the world, it's only appropriate that the team's dedicated fan site is of an equally impressive standing.
With this in mind, Pride of Nottingham is proud to unveil the new Notts County Community!
PON has undergone a substantial refurbishment to ensure it can be the best online community dedicated to a Notts side which, under the ownership of Hardy, the management of Kevin Nolan and boasting one of its most impressive line-ups in years, is set to impress in 2018-19 and beyond.
So what has changed? Well, let's take a closer look:
-    PON is no longer a fan site but a community dedicated to Notts County
-    Our own logo and branding, reflecting our stature as a top-class online community
-    Redesigns in key areas such as blogs and gallery
-    Improvements with user engagements (spam prevention, easier login handling, easier way to share content)
-    Better site moderation
-    Improved site speed
-    Better content discovery modes
-    Improved search functioning (Elasticsearch)
-    More media embed types (Twitch etc)
-    A dedicated online magazine, Our Pride
-    And much more!
With so many improvements and changes, Pride of Nottingham is now fully up to speed as an online community worthy of a Notts County side which, now more than ever, is poised for glory!
So what are you waiting for? Sign up to the website, register as a member and get involved with the Pride of Nottingham community!
1

1