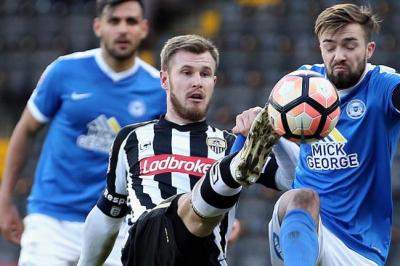 Notts County midfielder Rob Milsom admits he's "gutted" that his on-pitch partnership with Michael O'Connor has had to be put on ice but believes Elliot Hewitt will continue to be a great replacement in the centre of the park.
O'Connor suffered serious cruciate ligament damage in April and is expected to be out until next year as he prepares for knee surgery.
Hewitt has however done well in his place and, after committing to a new deal at Meadow Lane, is expected to continue partnering Milsom in midfield.
"I am really gutted for Mickey because we had built up a really good partnership just like we had done at Rotherham when we won promotion," Milsom told the Nottingham Post.
"He was producing some absolutely brilliant performances and he was exceptional against Crewe when he really showed what a good player he is.
"I was gutted for him when I found out about his injury because he's a great lad and obviously I've known him for a fair while as we've been at Rotherham and Notts together.
"I know he would have been relishing to start the season given how well we finished it and it's not nice when you know one of your teammates is now going to miss it.
"Obviously I don't know what's going to happen there in midfield, but Ells came in and did a good job after Mickey's injury.
"He produced some really strong performances in the last few weeks of the season and he's more than capable of playing in the middle.
"He gets up and down the pitch and really puts a shift in and he scored a terrific goal against Luton too."
Share your thoughts about this news story on Pride of Nottingham by signing up to the website, visiting the forum and joining in the chat with hundreds of fellow Notts County fans.