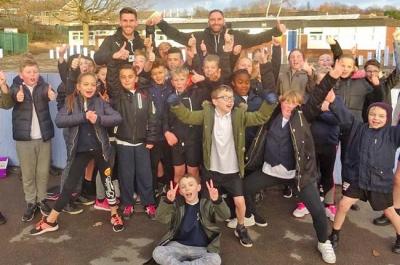 Notts County duo Shaun Brisley and Nicky Hunt paid a visit to Westglade Primary School in Nottingham as part of the Football In The Community-delivered scheme Premier League Primary Stars project.
The defenders were enthusiastically quizzed by the school's children about their career in the game, and also joined in a game of handball.
The Premier League Primary Stars project uses the appeal of the Premier League and professional football clubs to inspire children to learn, be active and develop important life skills.
As well as engaging children in physical activity and healthy living, PLPS uses the power of the beautiful game to teach core subjects such as Maths, English, PE and PSHE (personal, social, health and economic education).
Hunt told the FITC website of their visit to Westglade in early December: "The power of football is incomprehensible to young boys and girls at their age.
"Myself, Shaun and the boys are happy to put our names to such a great activities that are proving to be really positive.
"To see the work FITC are doing with primary school aged children has been brilliant and a real credit to the club and the charity."
Tom Curson, Education Officer and Premier League Primary Stars delivery team member, spoke with pride at how Westglade Primary have benefited from the scheme, saying: "The children I see every week have been a joy to teach.
"The feedback myself and FITC have received from both the children and the staff has been phenomenal and even if we play a small part in the development of these children it would all be worth it.
"Their numeracy and English have seen huge improvements and we look forward to seeing them again in the New Year."
Find out more about Notts County FC Football in the Community by clicking here.
Share your thoughts about this feature article on Pride of Nottingham by signing up to the website, visiting the forum and joining in the chat with hundreds of fellow Notts County fans.
Fancy showcasing your brand or business on Pride of Nottingham? Click here to find out more about sponsorship and advertising opportunities with us.