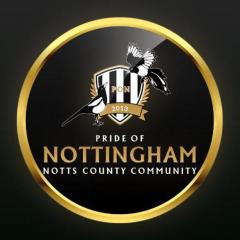 "Jimmy Fullarton announced as new manager x"
"Who"
Sky Sports news it may not be, but news travels fast these days. The above messages were between me and my old man shortly after Jimmy Fullarton, an ex Scotland Under 21 captain 'don't you know', was announced as Notts' new manager.
Speculation had been rife over the past week as to who would succeed Ricardo Moniz. Mark Cooper and then John Sheridan had been "odds on" for the job until midday Saturday when Fullarton's name became all but etched on the office door.
My initial reaction is one of being underwhelmed. Fullarton comes with a glowing reference from Mr Negative over the river; "an outstanding coach" crows the man with his armed tied behind his back by Mr Fridges. But is he necessarily what we need? Haven't we just parted company with a coach who was asked to bring a more entertaining 'brand' of football to the club…? 
Also, based on our league position; is an untried and inexperienced manager the right move at this point in time? Lying 18th in League 2, the most obvious threat is the trap door. However, that's 13 points away and isn't a concern. The real quiz is looking up the league. Notts are only 9 points off 7th. Regardless of how poor we have been at times; we have a good number of excellent players at this level and a 20 goal (at least) a season striker. For me, we needed to appoint a manager who knows his way around this part of the football wilderness, how to organise a team (because frankly, defensively we're an absolute shambles) and how to motivate a bunch of good but underachieving players. Fullarton may, and I pray he does, bring this to us but it could take more time than arguably a more experienced man would have needed.
Being personally underwhelmed by the appointment fits somewhere in the middle on the Twitter spectrum of opinions surrounding Fullarton's appointment. We quite obviously have those who are masking a complete gamble with "lets judge him on performances." Absolute politician speak. We have those who are even more hacked off than they needed to be after their first week back at work; "ABSOLUTE JOKE." And we obviously have those Notts 'fans' who are personally abusing Mr Trew and Mrs Trew. To those people; you're a disgrace – get out of my club and get yourself sterilised at the same time. On the whole, the fans see this as the wrong choice and I have to agree. We've tried this, it hasn't worked so we're trying it again… Why?
Whilst plenty of characters have been angrily smashed out on social media, we now have to get on with the new era. Fullarton must hit the ground running. I don't see Notts fans giving him that long if it goes pear shaped. His first job is to sort the defence out. Haydn Hollis is good enough to be in it, probably paired with Amevor or Swerts. Hewitt and Adams at full back. This is where Fullarton will earn his money in the early days; coaching. They obviously need it, so spend time doing it. I'd stick with the current crop because will we have that much money in order to dabble in the window to bring someone in? I'd argue not. And those names are plenty good enough if they're going to be coached properly. Oh, and don't play Alan Smith either Jimmy. There's a lad called Curtis Thompson, play him, he's quite good…
Manager 11 in six years (embarrassing) hasn't even held aloft the Notts County scarf for the official website article and he's already under pressure. The pressure hasn't been built by himself but by what has gone before him. Trew has continued to get massive decisions wrong regarding managers and I think this one could be the same. I was asked who should come in. "Neil Warnock. Get on the phone, beg him to do 6 months and if we do anything give him the option of a year rolling contract."
In essence, we needed an old head but we got, regardless of what Mr Trew says, an absolute gamble of a manager. The fans are upset. The players are under performing. The chairman is praying this works. Welcome to NG2 Jimmy…
Be sure to go follow Tommy on Twitter - Here | Also, please do add your opinions to our discussions over in our community forum.