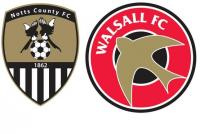 The title of this article is a bit of an understatement when it comes to Notts County v Walsall. The clubs have been playing eachother fairly regularly for 119 years now and this Saturday's match will be the 61st competitive meeting between the two. Notts just edge it on the history - winning 25 of the previous 60 meetings compared to Walsall's wins. There have also been 15 draws. Notts have scored 103 goals against Walsall, while they've scored 81 against us. The first meeting between the two clubs took place way back on 20th January 1894 in a Second Division game.

Back then Walsall were known as Walsall Town Swifts, as they were founded in 1888 following the amalgamation of the town's two original football clubs - Walsall Town and Walsall Swifts.

Notts won that first meeting 2-0 thanks to goals from Dan Bruce and Alf Shelton.

They visited Walsall's Fellows Park ground for the first time later that season on 12th March but were beaten 2-1. Jimmy Logan got Notts' only goal that day, and just 19 days later he would go on to write himself into Notts County folklore by scoring a hat-trick in the FA Cup final at The Oval, as Notts beat Bolton 4-1.

The following season, Notts beat Walsall 5-0 at Meadow Lane on Christmas Day thanks to goals from David Calderhead, Sam Donnelly, and a hat-trick from Jimmy Logan. The 5 goal margin remains the equal biggest win for Notts against The Saddlers.

The 1894-95 season saw Notts finish 3rd in the Second Division but the Magpies lost their promotion Test Match 2-1 to Derby County.

In 1896 Walsall Town Swifts became Walsall FC, but the new name didn't give them anymore luck, as they were beaten 5-2 on 14th November. Two months later, Notts achieved their first ever win at Fellows Park thanks to two goals from John Murphy, and one from Ernest Bell.

Notts were promoted to Division One at the end of the 1896-97 season, and the clubs didn't meet again until 3rd April 1931 in a division Three South game. Notts equalled their biggest margin of victory againt The Saddlers, with two goals from Tom Fenner, a goal from Tom Keetley, and a hat-trick from Harold Andrews securing a 6-1 win for The Magpies.

The two sides met again just 3 days later but Walsall gained some revenge with a 1-0 win. That was one of just 7 defeats Notts suffered all season on their way to the league title. They finished with 59 points - 8 clear of second placed Crystal Palace.

Notts travelled to Walsall on the final day of the 1936-37 season for what was a huge game for both sides. Notts were second in the table, 2 points adrift of Luton Town and if Notts won and Luton lost, there was a chance Notts could steal the title. Walsall on the other hand faced relegation if they lost and other results went against them. The Saddlers won the game 2-1 to secure their safety and keep Notts down.

Notts got a bit of revenge the following season though. Walsall struggled again and Notts' 3-1 win at Meadow Lane on the penultimate day all-but confirmed Walsal's relegation.

The two ides met in Cup Competition for the first time in 1939 in an FA Cup 4th round tie. The original game at Meadow Lane ended 0-0, but Walsall won the replay 4-0 five days later.

The 1959-60 season in Division Four was a thriller for both clubs. The two spent most of the season fighting for promotion and by the time the two sides met on consecutive days in April, they were first and second in the table. Walsall led the way and had a fairly healthy cushion over Notts.

The first meeting took place on 18th April in front of 22,728 at Meadow Lane. They saw The Magpies win 2-1 thanks to goals from Don Roby and Tony Hateley. This narrowed the gap to five points with four games left.

The two met again in front of 14,752 at Fellows Park the following day and it ended 2-2 - Notts' goals coming from Alan Withers and Bobby Forrest (strange name to have as a Notts player!).

Notts drew one and won two of their final three but it wasn't enough to secure the title. Both sides were promoted though.

The two had good first seasons back in Division Three - Notts finishing 5th, but Walsall went one better and made it back-to-back promotions with a second place finish.

Given the fairly regular nature of the meetings between the two sides over the years, it might surprise you to learn that it took Walsall until 24th October 1963 for their first ever win at Meadow Lane - nearly 70 years after the clubs first met. They won 1-0 on what was their 15th visit to Meadow Lane. Notts finished bottom of Divison Three that season.

It took Walsall a further 25 years to earn their second win at Meadow Lane but it was a pretty important one.

The two met in the Division Three play-offs in 1988 and The Saddlers ran out 3-1 winners at Meadow Lane. Notts couldnt turn it around in the second leg, which ended in a 1-1 draw and Walsall went on to beat Bristol City in the final.

They were relegated straight back to Divison Three the following season, and on 7th October 1989, Notts visited Fellows Park for what would be the last time. It ended 2-2 - Tommy Johnson and Mark Draper getting the goals for Notts who would go on to win promotion via the play-offs under Neil Warnock. Walsall on the other hand made it back-to-back relegations amid financial worries.

We didn't meet again until 1996 when we were both back in Division Two, and Notts visited Walsall's new Bescot Stadium for the first time on 10th February, the match ended 0-0.

The Saddlers picked up what remains their biggest win over Notts on 30th September 2000, with a 5-1 win at the Bescot. That was also Notts' heaviest defeat of what was an otherwise decent season which saw us finish 8th in Divison Two.

Most Walsall fans' best memory of playing Notts probably came on 14th April 2007 at Meadow Lane. A 2-1 victory sealed their promotion to league one, and they went on to secure the league title thanks to a last minute equaliser at Swindon on the final day, after Hartlepool were beaten at home by Bristol Rovers.

Notts were of course promoted to League One in 2010 and achieved their first win at the Bescot on New Years' Day 2011 with a 3-0 win. The return fixture ended 1-1 a month later, just days after Notts held Manchester City to a draw in the FA Cup.

Last season's meeting Saw Walsall win 1-0 at Meadow Lane thanks to Andy Butler's goal ten minutes from time on a frustrating afternoon for The Magpies.

Yoann Arquin's second half strike was enough to earn Notts a share of the spoils in the return fixture.

Thats the very long and hopefully interesting history of matches between Notts County and Walsall (well I've found researching it interesting!).

It should be a good game on Saturday. Walsall have made a strong start with 3 wins out of 3 in league and cup, but Notts have a point to prove. A result of any sort on Saturday would be good against a strong side.

I for one would take a repeat of the result there on 31st January 2012 - a scrappy 1-0 win for Notts!

COYP!