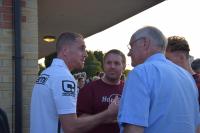 So far this season, we haven't yet witnessed a settled Notts County but we have been entertained by a couple of outstanding performances. With the arrival of Izale McLeod, Notts do look much stronger up front and the loan arrival of Alan Sheehan does provide the back with much needed cover.At the recent home game against York City, I mentioned to a friend about how comfortable we looked without so many of our foreign legion players.
I'm not trying to suggest that they're to blame for the inconsistency, this seems only natural with the amount of arrivals we have seen during this summer but what it does make me think, is some are not ready for League Two football.
With the exception of a few, I think the majority have settled well and contributed nicely already. Yet, on appearance it does seem that a couple need more time to settle to the hustle and bustle of this league.
For me, one stand out signing from our foreign legion (which is how the majority refer to them) is Gill Swerts. It was interesting to see him in pre-season looking already settled, as he mingled with fans after coming off at games like Carlton.
Yet each time I have seen him, he seems steady and reliable. He did extremely well in my opinion in our game at Meadow Lane against Luton Town.
With several players on the verge of returning, it leaves questions as to which players will nail down their positions but for me, I would give Gill Swerts his starting position back.
This said, with Elliot Hewitt coming in and doing well – Would it be fair on him after the performances against Crawley Town and York City?
This weighs up some of the dilemmas Ricardo Moniz has with his now current 41 man squad.
It also begs the question about players like Wes Atkinson, Colby Bishop, Rhys Sharpe, William Hayhurst and Scott Bennett. Will we see any of these feature? Also – is Taylor McKenzie still injured? This would see that Kyle Da Silva, Ronan Murray, Robert Milsom would be fighting for a place once they return from their injuries.
There is so much, which can unsettle a squad, which can lead to inconsistency and Moniz in my opinion really needs to balance his selection decisions.
He's doing well to make players fight for their places, yet I am unsure if some of the players like Gill Swerts deserve to be benched.
I ask you, what do you think? Does Gill Swerts deserve a place within the starting 11? Does anyone else deserve to be starting more regularly? Have your say below.