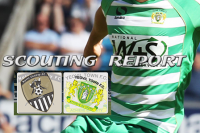 Yeovil Town come into the game only having scored two goals in their last six games, a run of 4 defeats and two draws shows the lack of form by last years Championship struggler's. However, they cannot be written off because of this as fortunes frequently change.

On the 8th of November Yeovil beat Crawley Town in the F.A Cup at home by one goal to nil. The last time they won in the league was back in September against Peterborough.
League wise The Glovers haven't scored since the 18th of October and the last time they scored more than just one goal was back on the 6th of September, they beat Bradford 3-1 away from home.
Run down of their last six games.
Saturday 11th October 2014 – Port Vale 4 Yeovil Town 1
Saturday 18th October 2014 – Yeovil Town 1 Swindon Town 1
Tuesday 21st October 2014 – Sheffield United 2 Yeovil Town 0
Saturday 25th October 2014 – Yeovil Town 0 Rochdale 3
Saturday 1st November 2014 – Chesterfield 0 Yeovil Town 0
Saturday 15th November 2014 – Yeovil Town 0 Fleetwood Town 1
The Players – Fact Sheet
Highest Goal Scorers; James Hayter 2, Kieffer Moore 2, Joel Grant 1 and Simon Gillett 1.
Persistent Foulers; Ben Nugent 1 Red Card and 5 Yellow Cards, Kevin Dawson 4 Yellow Cards and Ofori-Twumasi 1 Red Card.
The Key Players.
Brendan Moloney, Kevin Dawson, Sam Foley and Joel Grant.
The former Notts loanee Brendan Moloney will be a key player for Yeovil both defending and attacking, whilst on their day Kevin Dawson, Sam Foley and Joel Grant can all cause headaches for their opposition counterparts.
Joel Grant is particularly good at pulling the strings and getting involved in attacking play.
Sam Foley is a player Notts will need to be aware of as he can allude attention and quickly find space to pose a threat to any defence, he also has an eye for goal.
Notts will be best falling back to the typical 4-4-2 formation or 3-5-2 with at least two of the midfielders providing cover at the back. This will counter measure Yeovil and prevent them from breaking freely, Haydn Hollis and whoever partners him must be aware of the threat of pace, whilst also being sure to deal with the task from crosses.
Style of Play, Strengths, and Weaknesses.
Quick, direct and rely heavily on the spaces created on the flanks. Yeovil Town like to drill or float crosses into the penalty area where they are a threat. Many of the chances that have been created in previous games have come from set pieces or crosses, whilst the direct dynamic play allows them to attack with speed.
Their ability to get crosses in towards tall players is their main strength.
Yet Yeovil Town can break down sides with their smooth, possession passing which when watching would leave you questioning as to why they're bottom of the League One table.
They generally zonal mark teams, packing multiple players onto a single player which leaves them open and disorganized at the back. When hit with pace themselves, Yeovil drop off creating space in front which limits chances for opposition sides, yet presents chances whereby crosses or long distance efforts leave their players rooted.
Their lack of clinical finishing, sees good chances often wasted.
Yeovil are particularly weak themselves when dealing with set pieces and crosses, if the balls are direct enough players committed to runs will get into them.