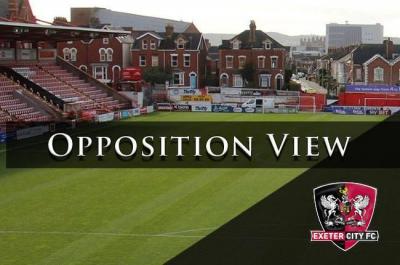 How good does it feel to be a Notts County fan right now?

Kevin Nolan has masterminded an epic climb to the top of League Two, the foundations of the club appear steady from top to bottom, and every so often a nice little bit of PR in the form of, say Matt Tootle's goal celebration, gives the club exposure on a global scale.
But it's still early days, and tonight, the Magpies will be given their harshest test, taking on previous fourth-tier leaders and current second-placed side Exeter City away at St James' Park.
Ahead of tonight's clash, Pride of Nottingham has spoken to Grecians fan Nathan Smith (Twitter: @Nathanecfc) to get an insight on the opposition.
About Nathan: I'm 16 years old, I started supporting Exeter when I was around 5 and I was taken to a game for my birthday and since then, I've been a fan! My all time favourite player would probably be Richard Logan as was one of those players that just scored the important goals. For example, the winner against Rotherham which sent us into League One.
Q1- You had financial troubles in the mid-00's how did you overcome these?
It all started in 2003 when the club was raided by police and took the chairman, his wife and the vice chairman in for questioning. This led to future chairman Dr David Treharne and other members of the trust going into Ivor Doble (who was the majority shareholder at the club) and paying £20,000 to purchase the club. Doble agreed and the deal was announced on the 5th of September. Despite the takeover, Exeter had to enter a CVA in order to reduce the £4.5 million debt left behind by the owners. A campaign called 'Red or Dead?' was started to help pay off the debts and the fans managed to raise £140,000. The 2005 FA cup games vs Manchester United meant that the clubs debts had been basically cleared due to the tv and ticket revenue.
Q2- You famously have links to the Brazil team, how have you kept this link alive?
The link between Exeter and Brazil obviously goes a long way back and most recently, the club went on a tour of Brazil in 2014. We played 3 different teams, including Fluminense at the same venue in which Exeter played Brazil back in 1914. Unfortunately, the tour did not go exactly to plan as some of the squad caught a illness which led to Tisdale having to name himself on the bench for the opening game!
Q3- Tell us about your FA Cup matches with Manchester United in 2005?
To be 100% honest, I didn't go as 3 year old me probably wasn't that keen! But, I do know that the games where huge for the club as they wiped off most of the clubs debts + getting a 0-0 draw at Old Trafford during Sir Alex Ferguson's reign is a huge achievement for a conference side. For the replay, we saw a young Cristiano Ronaldo and Wayne Rooney take the stage and they ran out 2-0 winners.
Q4- You were bottom of the League Two table last November, but you ended up making the play-offs. How did the turnaround come about?
At the start of the season, we were absolutely awful at home, while our away form while not being great, kept us near the teams above us. The two reasons we ended up in the play offs was our fantastic away form, in which we broke our personal record for most away wins in a season, and we also changed the way we played at home. We were very guilty of keeping the ball for the sake of keeping the ball and teams with a bit of power would just bully us and roll us over. We became more direct, relying on the aerial strength of David Wheeler and we also became very hard to score against, as we went through a period in December/January of barely conceding.
Q5- Who are your teams dangermen?
Reuben Reid is the top goalscorer in the league with 7 goals which makes him our biggest danger man. He is a clinical finisher in front of goal with great strength and decent pace. Lee Holmes is another danger man as despite not having a lot of pace, the winger is comfortable on both sides of the pitch and can easily take on the opposition full back. We have one of the better centre back pairs in the league but captain Jordan Moore-Taylor picked up a knock vs Coventry so I'm not sure whether he will play. The other half of the pair, Troy Brown is one of Tisdale's success stories as he arrived slightly overweight after two straight relegations with two different clubs. He has become a strong centre half with a powerful header and he is physically great. I'd also watch out for 16 year old Jack Sparkes who can make an impact if selected.
Q6- What do you think the score and goalscorers will be?
I'm going to go with a 1-1 draw with Jayden Stockley getting our goal.
Share your thoughts about this Opposition View piece on Pride of Nottingham by signing up to the website, visiting the forum and joining in the chat with hundreds of fellow Notts County fans.
Fancy showcasing your brand or business on Pride of Nottingham? Click here to find out more about sponsorship and advertising opportunities with us.
Edited by Joe Jones