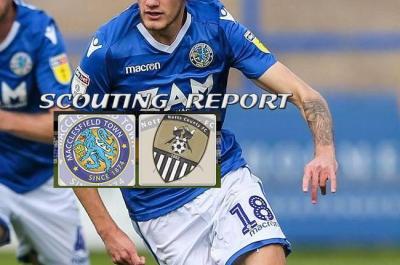 Notts County can make it three wins on the spin, and claim their first three-point haul of the season, should they be victorious at Moss Rose on Saturday when Harry Kewell's boys face struggling new boys Macclesfield Town.
Pride of Nottingham's Chris has analysed the opposition and written up this in-depth scouting report with views on how best not to get stuck in a web against the Silkmen.
Run-down of their last six fixtures
Saturday 1st September – Crewe Alexandra 3 Macclesfield 0
Saturday 8th September – Stevenage 1 Macclesfield Town 0
Saturday 15th September – Macclesfield 1 Lincoln City 2
Saturday 22nd September – Morecambe 2 Macclesfield Town 1
Saturday 29th September – Macclesfield Town 1 Forest Green Rovers 1
Tuesday 2nd October – Newport County 3 Macclesfield Town 3
The Players – Fact Sheet
Highest Goal Scorers; Michael Rose 3, Danny Whitaker 2, Jamie Grimes 2 and Koby Arthur 2.
Persistent Foulers; Michael Rose 1 red card, Peter Vincenti 2 yellow card, Tyrone Marsh 2 yellow cards and Scott Wilson 2 yellow cards.
The Key Players
In midfield Koby Arthur can get his side going, he's a technical midfielder who likes to use the ball and to run at the opposition. His ability to pick out a pass but also lead the midfield line is a main focus for Macclesfield Town.
Up-top Tyrone Marsh, Scott Wilson and Nathan Blissett all have the ability to naturally draw players onto marking them, they can rotate much like Enzio Boldewijn and Lewis Alessandra do – which can prove tricky. Neither of the three players should be allowed any sort of room in the box, as they can excel and create chances if this happens.
On the left side of defence, David Fitzpatrick is a player who likes to get forward as much as possible. His ability to attack but also defend makes him a useful opposition player to aware of, he will most likely try to float crosses and balls into the forward front line.
Style of Play, Strengths, and Weaknesses
Macclesfield Town appear to invite pressure onto themselves by the way that Mark Yates has his team set up, they look a capable side but failure to mark tightly does allow for their opposition to thrive when going forward.
Defensively, they seem to have no one taking responsibility for all the basic aspects of the game.
There's no one pressing, marking or trying to win the ball back from the highlights that I have seen – they seem to rely too much on their keeper to make the saves.
Going forward they seem to be more focused, however many of their chances that they create seem to be down to luck or hope as opposed to having an actual creative outlet.
The idea seems to be however best to get the ball in the box, where they do have players capable of punishing teams.
They look particularly vulnerable from set pieces, which is something that Notts can make the most of.
Macclesfield are more than capable of creating good efforts, it's more a case of pressure and scrappy play on their part that lets them down.
As a team they can score, so nobody should underestimate them but Harry Kewell's defence should be more than capable of dealing with them.
Provided they reduce the opportunity to run with the ball or strike from it from distance, it should be a fairly basic task on paper.
Whereas Notts must look to get the down the flanks, using the aerial threat as a way to get chances a way and the players must be brave when it comes to showing what I would describe as Non-League defending.
It's going to be a difficult game, much of the fortune and outcome will rely on retaining the hard-working attitude we have seen as of late.
I feel the game may be scrappy more than entertaining, however adapting and being prepared would favour Notts I feel.
Share your thoughts about this scouting report on Pride of Nottingham by signing up to the website, visiting the forum and joining in the chat with hundreds of fellow Notts County fans.
Fancy showcasing your brand or business on Pride of Nottingham? Click here to find out more about sponsorship and advertising opportunities with us.
Edited by PON_News