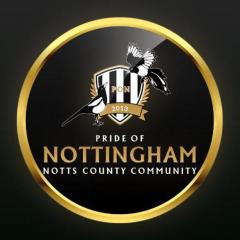 Notts County's new box-to-box midfielder, Matt Palmer believes the club are going places after signing a 2-year-deal.
Palmer sees the move in the short term as gaining promotion back to the Football League, but has been attracted to the long term vision of the magpies' set by the Reedtz brothers and head coach, Ian Burchnall.
Having joined Notts County after being released by Swindon Town, who had been relegated to League Two in their last campaign - the midfielder is keen to settle within a club that is aiming to do more than just staying within a league.
Speaking about having joined Notts, Matt Palmer said: "I've looked at two ways, obviously, I wanted to come and join a place that has a long term project in place.
"I came and spoke to the gaffer, and he obviously explained the way he wants to play
"The vision of this football club, the vision of the owners and stuff like that, which was really appealing to me." the midfielder added.  
"I think it was a decision where I saw that I go somewhere for maybe a short term year, maybe somewhere they're just trying to stay in the league
"Whereas I think this club is trying to go places, obviously the short term objective is to get promotion, and then I think after that there is a long term project, which is what I want to be a part of
"Like I said the main objective this season is get promotion, but then it's a club that could probably go on again, get themselves up the league"
Before explaining: "There are teams in the championship like Luton, who have done back to back promotions. 
"So yeah, when I came in and spoke to the gaffer, I was really impressed. 
"I spoke to a few people about the way he wants to play football, and it's perfect for me. I think he'll get the best out of me. hopefully it'll work both ways." Palmer added.
Notts County continue to strengthen their team ahead of the 2021/22 National League season, having already signed major coups such as Kyle Cameron, Joel Taylor and Aaron Nemane.
"It was sort of a no-brainer to want to be a part of that, like I said other clubs maybe with what's happened with COVID, that they're maybe just trying to try to stay in the league rather than actually do something. 
"So I think when I was at Burton Albion, they put together a project, and it got them in to the championship 
"I played in the championship with them, so this is something that when I spoke to the manager, you could see that he wants to sort of go along them sort of lines, that's why I wanted to join.
"It's about getting in minutes, and hopefully I can get some in on Saturday and then build up from there."
Are you a member of the Pride of Nottingham community? Why not get involved with our popular forum, and share your thoughts on club matters?
Fancy showcasing your brand or business on Pride of Nottingham? Click here to find out more about sponsorship and advertising opportunities with us.