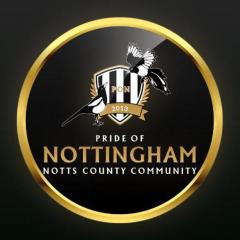 Notts County celebrated a hard-fought 3-1 victory over Crawley Town at Meadow Lane, with head coach Luke Williams expressing his thoughts on the intense match.
"Yeah, absolutely. Both teams approached the game with a lot of energy, a really modern style of play. The high tempo led to mistakes, but it was exciting for everyone. Love the approach from both teams, and that's why there were a lot of tired bodies at the end," Williams said.
Reflecting on the match, Williams acknowledged Crawley's early advantage. "They hit us with their first shot on target, a really good move. I was worried we might feel tired quicker, but we managed to get back on terms quickly enough to give us belief."
Aaron Nemane's goal against Taye Ashby-Hammond from a season earlier certainly jogged Williams' memory. "He's a very good goalkeeper with a big character. He'll get more right than wrong, but he got caught out this time. Last season's chip from Aaron Nemane was shocking for everyone, especially Aaron. But he's a very, very good goalkeeper."
When asked about what he enjoyed seeing compared to the previous game, Williams emphasised the importance of energy. "Energy and aggression were back. There was a period where we didn't make enough tackles in the middle due to fatigue, but the substitutes brought more bite. Junior's pressing was fantastic, giving everyone a lift."
Williams explained the first substitution, stating, "It was a problem with Sam Slocombe. I'm happy for Stony (Aidan Stone) to have an opportunity he's been waiting for. Disappointed for Sam, but Stone is ready to go back in."
The coach expressed satisfaction with goals from various players. "Jim O'Brien's first of the year and Junior's smart goal were brilliant. I love Junior's performance; he gave us loads of energy. It's important when all the guys celebrate together."
Commenting on the end of the game, Williams highlighted the toll on players. "David McGoldrick got a knock, and Jodi Jones had cramps. It says a lot about the high tempo of the game and the relentless pressing. Macca [Macaulay Langstaff] was incredible, at times he's playing left back and then attacking the box."
Looking ahead to the upcoming cup tie, Williams explained the absence of Tobi Adebayo-Rowling and Dan Gosling. "They need more training to improve conditioning. Being on the bench limits high-intensity training. Tobi wasn't ready after a hamstring problem, so they trained well today."
As Notts County savoured their victory, Williams recognised the challenges ahead with games coming thick and fast, emphasising the need for continued energy and performance on tough pitches.
Can you name any players that have featured for both Notts County, and Shrewsbury Town? Be quick to see if they haven't been mentioned yet in our MAGnet topic.
Join in with the Pride of Nottingham discussion which focuses on Jim O'Brien's brilliant goal against Crawley Town this past Tuesday, including fan footage!