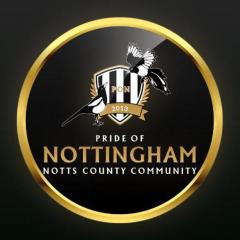 Notts County defender Connell Rawlinson has said that he would sacrifice his dream, if it meant the club could play local neighbours Nottingham Forest at Meadow Lane.
The 30-year-old centre back grew up supporting Premier League club, Everton and, he has expressed his desire to see the Magpies progress in the historic knockout tournament.
Notts will face Rochdale on Sunday in the 1st round of the competition and, will be two victories away from a potential big money tie.
"Obviously I'm 30 now, and you do start to think about big moments you can look back on in your career. It'd be lovely if we could get a good run together and get to the third round." said to the Nottingham Post.
"We were speaking about it the other day with a couple of the lads, we've got a couple of Geordie lads that obviously want to draw Newcastle.
"You've got me who is an Everton fan, there are lads who are United fans, City fans, so it would be nice to obviously get one of the big sides."
Rochdale have been made the bookies favourites to progress to the 2nd round of the FA Cup, yet there is belief within the Notts County camp that the gap between the two teams isn't that far between.
"But on the flip side of that, it'd be nice to obviously get Forest as well.
"That would be huge. I think I would probably give up a tie playing against Everton to play Forest at home.
"I just think it'd be a really special occasion where two great footballing teams come together in the city and the whole city would probably come together as a result too.
"It would be a great day if we could end up getting through a few rounds and pulling Forest out the hat.
"I'll be honest, if you want to compare League Two to the National League, you've only got to look at the teams that have been promoted over the last couple of seasons, and how well they are doing, the top 10 teams that are up around the play-offs would be able to hold their own fairly comfortably in League Two." he added.
"We're just going into it as we do every game which is to play our style of football and dictate the pace of the game.
"You've also got to remember that you are away from home, and you are playing a league side, so there will be a level of respect there from ourselves.
"But I don't see why the lads can't turn up on Sunday and give a good performance."
Check out the latest Pride of Nottingham T-Shirt range, which is available from our online web store!:
Fancy showcasing your brand or business on Pride of Nottingham? Click here to find out more about sponsorship and advertising opportunities with us.