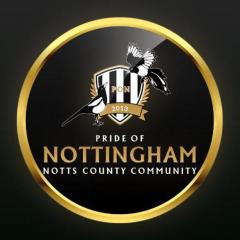 Pride of Nottingham are delighted to announce that we have sponsored Jonathan Forte's home kit for the 2017/18 season.
The Barbados international is currently in his fourth spell at Notts County, having joined permanently from Oldham Athletic in July 2016.
Prior to that, Forte had been on loan at Notts three times, in 2008 (four games, four goals), 2009 (14 games, four goals) and 2012 (10 games, five goals).
This season, the Sheffield-born striker made his first appearance in the League Cup penalty shootout defeat to Scunthorpe United at Glanford Park, where he impressed up front.
Notts manager Kevin Nolan had revealed prior to the game that he and Forte had a "frank discussion" at the weekend but, following the 120 minutes plus spot kicks at Scunthorpe, he had nothing but good things to say about the 31-year-old.
"He harried them, he created chances for himself as well as others," Nolan told the Nottingham Post.
"It's just exactly what I wanted from Forte which was to use what he's best at. That was using his pace and a good touch to try to get shots off. He did all of it and I thought he was excellent on Tuesday night.
"We had a frank discussion after the Coventry game and a few home truths come out. But he responded in the right way. He proved to me that he wants to be here and fight for his place.
"That's a great thing for me because he's putting pressure on Jon Stead and Shola Ameobi which they thought they probably didn't have on Tuesday night. So I have options and that's great."
Pride of Nottingham would like to wish Forte all the best for the remainder of the 2017/18 season - COME ON YOU PIES!!!
Share your thoughts about this story on Pride of Nottingham by signing up to the website, visiting the forum and joining in the chat with hundreds of fellow Notts County fans.
We at Pride of Nottingham want you to enjoy all our content for free. If you fancy helping us provide even better content, however, please consider contributing to PON by clicking here!
Edited by Joe Jones