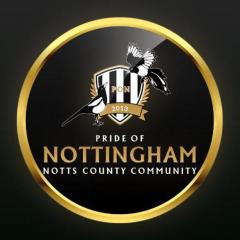 Notts County returned to winning ways, after a spell of 3 defeats in a row as the magpies' lost to Altrincham, Woking and Halifax.
Head Coach, Ian Burchnall expressed his relief after beating Yeovil Town 2-0 away from home at Huish Park.
The win saw Notts move just a single place in the National League, from 10th to 9th, but comes at a time when fixtures are becoming increasingly harder on paper, with Stockport County next up to face the Nottingham club.
During his post-match press conference, Head Coach Ian Burchnall said: "Very relieved, yeah, especially after the kind of week, or so that we've just had really disappointing results and the nature of them as well.
"So really happy to get a strong away performance, and kind of put that behind us and, hopefully, kick on now.
"I think we needed to see a reaction from the last game, we talked about it and that the way we finished the game and that the nature of that game really hurt us." He added,
"That showed today, that we came out, and it was a good footballing performance.
"Very spirited fighting performance as well, with some very good individual gameplay in there as well.
"We've talked about and addressed it and I think we've discussed why that happened, and what we should do if we get in that situation again.
"I thought when we were one nil up, I thought we managed the game well at one nil, we didn't stress, we didn't show signs of panic in there.
"We stayed very calm and then, even after two nil, you see, we kept the ball in their half, instead of stressing, and I think we just saw the game out in a much more mature way."
Notts County forward, Ruben Rodrigues has stepped back into the spotlight initially after the suspension to team-mate Cal Roberts, by becoming the club's current highest goal scorer in the National League with 6 goals.
"Four in his last three, he could have had more today. He knows he should have shot before half-time.
"Great performance from him, on and off the ball, I thought he defended very well for us, from the front and found the spaces between the lines very well, and was a constant threat, so yeah happy with him in goalscoring form."
Next up, Notts will play Tamworth in the fourth qualifying round of the FA Cup, but return to league action against Stockport County on October 23rd.
Check out the latest Pride of Nottingham T-Shirt range, which is available from our online web store!:
Fancy showcasing your brand or business on Pride of Nottingham? Click here to find out more about sponsorship and advertising opportunities with us.