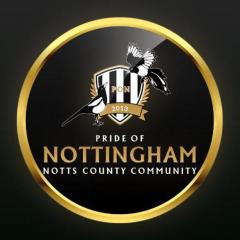 In a riveting match that kept spectators on tenterhooks, Notts County clinched a 4-3 victory over Forest Green Rovers. The star of this spectacular showdown? None other than David McGoldrick, whose pivotal role saw the game swing back and forth like a pendulum.
McGoldrick, a key player in his team's performance, encapsulated the rollercoaster ride of the match: "Yeah, literally a game of two halves, I have to say. First off, I was in control. We've got two good goals, didn't have any real chances. And in the second half, you know, I think they've got a bit off track, didn't do the right things at times."
Indeed, the first half was dominated by McGoldrick who scored the decisive goals that sent the home crowd into ecstasy. Notts County seemed to be cruising towards victory.
"We don't ever go into a game where it's just all one-sided," McGoldrick added, highlighting the unpredictable nature of football. "You know, you gotta dig in sometimes. We did that a lot today. Like I said, we got the three points."
However, football is often described as a game of two halves and Forest Green Rovers had other ideas. The visitors staged an impressive comeback, equalising the score at 2-2.
Reflecting on the dramatic shift in momentum, McGoldrick stated, "I don't know, you know. You can do all the talking; you know, I think talking is good for the player. You know, but it's about what you do with the ball and positionally where you are. You know, but it happens; you know, it's a game of football."
Just when Forest Green Rovers seemed to have turned the tide, Notts County roared back into the lead. This was in part due to McGoldrick's unwavering determination and remarkable speed at 35 years old as he broke away to assist Macaulay's crucial goal.
"Yeah, I'm showing my pace at 35, you know," McGoldrick modestly admitted. "But yeah, it was good."
The match was not short on drama with both sides trading blows. In the end though, Notts County held on for a 4-3 victory thereby extending their unbeaten home record.
McGoldrick's impact on the game was undeniable, and he acknowledged the significance of the win: "We've got to win so that's all I'm really caring about."
With this exhilarating victory under their belt, Notts County now find themselves at the top of the table after nine games. However, McGoldrick urged caution: "Yeah, nine games, you know me personally; I didn't look at the table. You know I don't think you can start thinking anything nine games in."
He emphasised the importance of staying humble and focused as the season progresses with challenges lying ahead.
As this pulsating encounter concludes and dust settles down, Notts County and their fans will relish this moment while David McGoldrick's heroics will be forever etched in Notts County's history.
Take a gander at the Pride of Nottingham dashboard, get a glimpse of our site and community all in one place. Don't hesitate, join in and get involved today!
Brush up on the fantastic win over Forest Green Rovers in the Pride of Nottingham match report, and don't forget to drop your thoughts in the comments section!