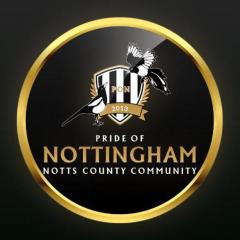 Luke Williams, the head coach of Notts County, a man known for his candid approach and commitment to his team. As they embark on their journey in League Two, Williams' leadership and strategic insights have become a beacon for the team, guiding them through the challenges of a higher division.
Williams' focus on strengthening Notts County's defensive record has been a key talking point. His dislike for conceding goals is well-known, and his determination to apply successful defensive techniques from the previous season is commendable. This approach, however, is being tested as the team faces tougher opposition in League Two.
The transition to a higher division has brought its own set of challenges. The exposure and experience that come with playing in League Two are significant factors that Williams acknowledges. With many players in the starting line-up having experience in the National League last season, adapting to a more competitive environment is a formidable task. Yet, Williams' honesty about this ongoing journey reflects the resilience of Notts County as they find their footing in League Two.
Williams did not mince words when addressing the club's defensive record, stating, "It's the thing that I dislike the most, to concede goals." This candid admission underscores his commitment to shoring up Notts County's backline. Williams firmly believes that the team must apply the same defensive mentality and techniques that worked so effectively last season, even as they face tougher opposition.
As the team navigates the transition to League Two, Williams highlighted the significance of exposure and experience. He pointed out that many players in the starting line-up had experience in the National League last season, making the adjustment to a higher division a formidable challenge. "We are finding our feet in the division, and we're still adapting to the level," he acknowledged. The coach's honesty reflects the team's ongoing journey in a more competitive environment.
The discussion with Williams also delved into the club's offensive performance. He acknowledged the importance of scoring goals while emphasising the balance between attacking and defending. Williams revealed a trend in the team's performances, noting that they have been more of a threat in the first half of games, suggesting a need to maintain focus and physicality to be a consistent attacking force.
Despite the defensive challenges and their adaptation to a higher level of competition, Williams exuded optimism. "We're looking forward to more tough games and trying to become the best team that we can," he declared, underscoring the team's determination to evolve and make their mark in League Two.
Notts County's journey in League Two has seen them face defensive difficulties, yet under Williams' guidance, they remain steadfast in their quest for improvement. The candid insights shared by the head coach provide a glimpse into the club's ongoing transition, reflecting their commitment to maintaining a balance between attacking prowess and resolute defending. As they navigate the challenges of a higher division, Notts County remains determined to adapt and rise to the occasion in League Two.
Have a gander at the Pride of Nottingham's dashboard page and get involved with our content, from articles and forum discussions to blogs and videos.
Are you up to date with the latest articles we've released? Have a look at all of our articles on this link and don't forget to leave us a comment with your thoughts.