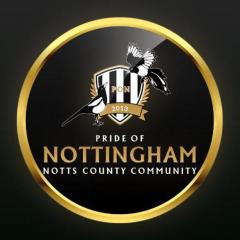 In the aftermath of a startling defeat to Mansfield, Notts County's David McGoldrick has emerged as a beacon of resilience. The loss, a jarring contrast to the team's previously formidable home record, has left fans and players alike grappling with disappointment. Yet, in the face of adversity, McGoldrick's unwavering resolve shines through, offering a glimmer of hope amidst the gloom.
McGoldrick's optimism is not unfounded. Despite the recent setback, Notts County has demonstrated their ability to hold their own against top-tier teams. Their victory over Swindon stands as testament to their potential, and with challenging fixtures against Newport and Wrexham on the horizon, the opportunity to bounce back is ripe. For McGoldrick and his teammates, these upcoming matches are more than just games - they're a chance to regain lost momentum and continue their strong season.
The return of McGoldrick to Meadow Lane has been a source of joy for both the players and the fans. His affinity for Notts County is palpable, and his enthusiasm is infectious. Training with his teammates, learning from the manager, and playing for the club he holds dear - these are the moments that make him feel young again. As he steps onto the pitch, he carries with him not just the hopes of his team, but also those of every Notts County supporter.
In the wake of a shocking loss to Mansfield, McGoldrick acknowledged the team's disappointment but emphasised their resolve, saying, "We can't dwell on it. We've got to get rid of it. We've got a big game on Saturday." The defeat came as a surprise to fans who had grown accustomed to Notts County's formidable home record.
Despite the setback, McGoldrick remains optimistic about the team's prospects. He noted, "We've shown against top teams that we can perform." He cited their impressive victory over Swindon and outlined a challenging upcoming schedule against Newport and Wrexham. McGoldrick believes these matches provide an opportunity for the team to regain momentum and continue their strong season.
Regarding his return to Meadow Lane, McGoldrick expressed his joy at representing Notts County, a club he holds dear to his heart. "This is my team, and coming into training with the boys, learning from the manager, and playing with the lads is great. I'm enjoying it; I feel young again," he said.
Reflecting on Notts County's remarkable journey from the National League to their current position in League Two, McGoldrick shared his desire to be a part of the club's progress. "I wanted to be a part of it, and it would be magical if I could do something with the club to take them up the football league ladder," he explained. This marks the beginning of a thrilling journey for Notts County and their dedicated fans.
As Notts County gears up for their 5000th League game, McGoldrick highlighted the significance of each match. "All games are special. You don't know when your last football game is going to be," he said. His sentiments emphasise the passion and commitment of the players as they aim to make history in the club's milestone match.
In a final message to the fans, McGoldrick underlined their importance, stating, "Fans are the heartbeat of the club." He acknowledged their high expectations and emphasised the team's dedication to reaching new heights. With McGoldrick's experience and determination, Notts County remains poised for success as they continue their journey through League Two.
Please consider supporting the Pride of Nottingham by making a contribution to our upkeep. We rely on the kindness of fans to help fund our independent fan site, and all contributions greatly help maintain the PON site.
The Pride of Nottingham match discussion for tomorrow's game against Gillingham is live. Share your thoughts and opinions on the game, from potential line-up and tactics to who to watch out for. Have your say!