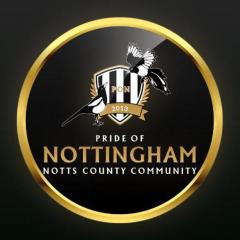 Tommy Lawton: The Debut Goal and the Fight for Fair Pay (15th November 1947)
On a chilly Saturday, the 15th of November 1947, a new era dawned for Notts County as 'Tommy Lawton' made his debut.
Just two days after signing for the club, Lawton marked his first appearance with a goal against Northampton Town. The anticipation of Lawton's debut drew a crowd of over 18,000 spectators to the Cobblers' County Ground. 
The spectators were not disappointed as Lawton opened the scoring, and Jack Marsh added another to secure a 2-1 victory for Notts County. This marked the beginning of the 'Lawton Era'.
Lawton, a centre-forward of exceptional talent, was a vocal advocate for better pay for footballers during his career. Despite his status, Lawton earned a modest income compared to today's footballers. 
His discontent led him to make a surprising career move in 1947. Despite being hailed as the world's greatest centre forward, Lawton joined Notts County, a Third Division team, primarily for financial reasons. His friend Arthur Stollery, the manager of Notts County and former physiotherapist at Chelsea, convinced him to make the move.
Roy Carroll: The Double Duty (15th November 2014)
Fast-forward to the same date, 67 years later, on the 15th of November 2014, another memorable event unfolded in the history of Notts County. 
Goalkeeper 'Roy Carroll' displayed an extraordinary commitment to the club. Carroll played at Coventry City less than 24 hours after representing Northern Ireland in a European Championship qualifying match in Romania. 
His efforts were not in vain, as Garry Thompson's strike secured the points for Notts and lifted them to fourth in the League One table. 
Carroll's performance was so impressive that it prompted club chairman Ray Trew to praise him highly, stating that Carroll's actions "epitomised everything that is right about Notts County at the moment."
The dedication of Carroll to Notts County was evident in his own words. Despite having only a few hours of sleep, he was ready to play for the club. "For me, playing for Notts County back in the English league is fantastic. In the summer nobody was interested in me and Shaun Derry gave me a chance to come back to England, and it's a great pleasure for me to come back here and play for Notts County," he said. 
He also praised the defenders in front of him for helping ensure that the club kept a ninth clean sheet of the season.
These two events, though separated by many years, both occurred on the 15th of November and have left an indelible mark on the history of Notts County. They stand as a clear demonstration of the dedication and talent of the players who have represented Notts County.
Join in with the Pride of Nottingham by sharing your opinions inside our forum discussions. You can quickly get involved using our popular 'topicfeed' page.
The Pride of Nottingham match discussion as Notts County prepare to host Bradford City on Saturday is now live. Share your pre-and-post-match thoughts with us. We would love to see your input!
19

1