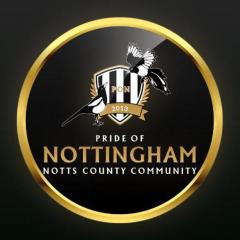 The Pride of Nottingham is delighted to showcase some of the best Notts County t-shirts and posters!
To which we pay homage to some of the greatest legends, heroes and icons of the Magpies, from seasons past to present - we have every Notts County fan covered this Christmas.
If you seek something a little special for your loved one, why not take a peek at what we offer within our online store?
Our prints come in two sizes, A3 and A4 - we also offer FREE 2nd class delivery on all the prints. This is an ideal gift for anyone with space on their wall. However, we do sell a series of popular t-shirts.
Among some general concept art, plus our friends Scene Originals have a lot of fans covered with their artistic wheelbarrow designs.
We have even started selling caps for any fan wanting to show Nottingham, that Notts County are the Pride of Nottingham.


https://prideofnottingham.co.uk/store/
All of the Pride of Nottingham merch has FREE 2nd class delivery as standard, with additional delivery options.
Be a part of the Pride of Nottingham community and share your views within our friendly community!