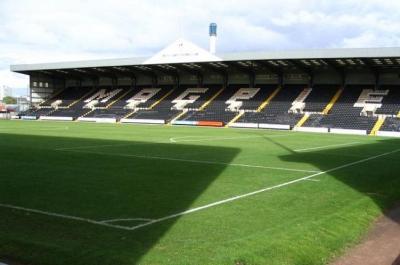 Kevin Nolan has provided an injury update on several players ahead of Notts County's home game against Port Vale on New Year's Day.
Jonathan Forte, Shola Ameobi and Richard Duffy will face late fitness tests, while Rob Milsom will have to see a specialist.
The four players did not take part in Saturday's 1-0 loss at Swindon Town and, while Milsom is definitely out, it will be a case of taking it "day by day" with the other three.
Nolan also provided updates on goalkeeper Adam Collin, who is now "a couple of weeks away" from a return, and captain Michael O'Connor, who is now back in training.
"They are five lads who could start in the team," Nolan told the Nottingham Post.
"We've just got to play it day by day. It just shows that when I talk about how important the depth of the squad is because you can lose four or five in seven days because of this period.
"Rob has to go and see a specialist, while Shola, Forte and Duffy are touch and go.
"Adam Collin is still a couple of weeks away, while Occy returned to the training pitch this week which was lovely to see him running around the pitch.
"But it wasn't about the lads who were missing on Saturday. I thought the lads who played deserved to get a draw.
"They did more than enough, but the defeat just came from sloppy defending on our part."
Share your thoughts about this news story on Pride of Nottingham by signing up to the website, visiting the forum and joining in the chat with hundreds of fellow Notts County fans.
Fancy showcasing your brand or business on Pride of Nottingham? Click here to find out more about sponsorship and advertising opportunities with us.