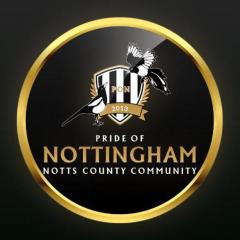 As Notts County prepare for their forthcoming match against a formidable Crewe Alexandra, Head Coach Luke Williams provides an insightful perspective on the challenges that lie ahead. 
Williams, who has previously encountered Crewe in his managerial career, is well aware of their consistent performance.
"They're always good. I've been up against Crewe for Swindon Town, so many times for MK Dons, and they're just always excellent. They always get the maximum out of players," Williams admits, underlining the persistent quality and effectiveness of Crewe's strategy. This is a testament to Crewe's ability to nurture talent and consistently perform at a high level, a trait that Williams acknowledges and respects.
Williams, with his strategic mindset, emphasises the significance of resilience, stating, "We fought very hard to get to this division, and we're going to make the most of being here. We're going to stand up to be counted." This unwavering commitment to confront challenges head-on is a testament to the coach's resolve to make Notts County a force that cannot be ignored. in League Two. His words echo the spirit of determination and tenacity that is characteristic of the team.
Turning his attention to the FA Cup, Williams expresses the team's collective aspiration for a significant cup run, saying, "We've not been able to give [the fans] that since I've been here. So that would be really special." The possibility of an exhilarating match against a higher division team adds an extra layer of excitement for both the players and the supporters. This anticipation is palpable, adding to the fervour of the upcoming matches.
In the course of the interview, Williams expresses his admiration for Jodi Jones, who is poised to represent Malta at Wembley. Despite the unfortunate timing, the coach is thrilled for Jones, highlighting the player's resilience and determination. "I'm disappointed because I want him with me. But I'm delighted for him, and I've given him my full support," Williams remarks, reflecting on Jones's personal accomplishment. This sentiment underscores the supportive and nurturing environment within the team, where individual achievements are celebrated.
This in-depth examination unveils the strategic methodology and unfaltering resolve of Williams, shedding light on the trials and prospects brought forth by Crewe and the FA Cup. The scrupulous groundwork and dedication to triumph lay the foundation for Notts County's audacious endeavour, combining a storied football legacy with a progressive outlook.
The squad's dedication to superiority is evident, as they endeavour to etch their insignia in the annals of football. Their journey is a captivating tale of tenacity, aspiration, and the ceaseless quest for accomplishment. This ongoing narrative not only seizes the affections of supporters but also kindles the aspirations of forthcoming generations of footballers.
Join in with the Pride of Nottingham match discussion ahead of tomorrow's game against CreweAlexandra, and share your pre- and post-match thoughts.
Check out the Pride of Nottingham dashboard page, where you can find all the latest content across the site, such as articles, blogs, forum discussions and much more!