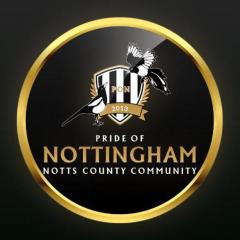 In the aftermath of Notts County's thrilling yet agonising defeat against Colchester United, Luke Williams, the club's manager, cut a somewhat restrained figure. 
Despite a four-goal offensive onslaught, Williams seemed to be holding back the fury that one might expect from a manager whose team had just conceded five goals. Speaking to Dave Bracegirdle before the game, Williams had described the number of goals his side was conceding as "really worrying." With eight goals conceded in two games and a staggering 19 already this season, it's not difficult to see why.
Former Notts County striker and BBC Radio Nottingham's correspondent, Mark Stallard, shared his thoughts on the defensive frailties that have haunted the Magpies. Stallard's assessment was candid, stating, "There's too many mistakes being made, you know." He added, "Thankfully, other than today, they've not cost Notts too much this season." While the Magpies may sit at the summit of the table, they are doing so with a glaring defensive vulnerability, with only four teams having conceded more goals.
Despite the concerning defensive record, Stallard was quick to recognize the attacking prowess of Notts County, stating, "We're scoring a hell of a lot of goals, posing such a threat going forward." Indeed, the neutral observer must have relished the spectacle of the game, even if Notts County ultimately found themselves on the wrong side of the score line.
So, how can Notts County address these defensive issues? Stallard acknowledged that the solution lies in training and analysis. He emphasized the need to work on transitions, positioning, spacing, and individual errors. "Cutting out individual errors is point number one," Stallard insisted. While the mistakes have been costly, he was resolute in his belief that Notts County should not deviate from their attacking style of play, which has been their hallmark under Williams' tenure.
When questioned about whether the team should change their playing style, Stallard responded categorically with a resounding "no." He pointed out that their style of play had brought them success, enabling them to score four goals on the day. He acknowledged that some of the goals conceded were due to outstanding strikes rather than systemic issues, emphasising the importance of finding the balance between attacking potency and defensive stability.
One of the highlights of the game was Jodi Jones' sublime goal, a "goal of the season contender," according to Stallard. Despite such moments of brilliance, the frustration lies in the fact that Notts County's defensive lapses overshadowed their attacking brilliance.
With Langstaff continuing to find the net and Notts County's knack for creating chances, it's clear that the attacking aspect of their game is firing on all cylinders. However, the team now faces the challenge of addressing their defensive fragility. Stallard noted that Tuesday night's clash against Swindon, who are also prolific in front of goal, is a massive game. Williams will be seeking a bounce-back performance from his team and will undoubtedly be focused on tightening the defensive screws.
The question now is whether Notts County can maintain their attacking flair while shoring up their defence. As Stallard concluded, "Championship [winning] teams are built on solid defences," and the current number of goals conceded remains a cause for concern. Tuesday's match promises to be a thrilling encounter, with both teams possessing an eye for goal. With a bumper crowd expected at Meadow Lane, it could indeed be another goal fest, but Notts County fans will hope that their team's defensive resolve takes centre stage, allowing them to maintain their position at the top of the table.
A new month brings a new appeal from the Pride of Nottingham for contributions towards the site's upkeep. We gratefully received 25% of our target last month and if you're in a position to donate, we'd appreciate your support.
Alternatively, you might like to browse through the Pride of Nottingham online store. All proceeds go a long way in helping PON keep the lights on and maintain our focus on delivering quality content for Notts fans.
11

3