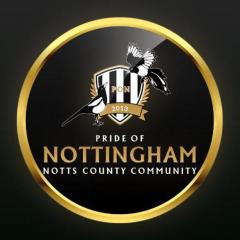 In a thrilling encounter at the Community Stadium, Colchester United edged out Notts County in a nine-goal thriller, winning 5-4. The match was a rollercoaster ride of emotions, with both teams displaying exceptional skill and determination.
In the 10th minute, the game exploded into action with an incredible goal by Noah Chilvers from Colchester United. With a powerful right-footed shot from beyond 35 yards, he skilfully placed the ball right into the centre of the goal. This early goal set the tone for what was to be an exciting match. The crowd roared in approval as Chilvers' shot found the back of the net, marking an explosive start to the game.
However, Notts County quickly responded with Sam Austin scoring a right-footed shot from the centre of the box to the bottom left corner in the 21st minute. This equaliser brought a renewed sense of hope and determination to the Notts County side. The first half ended with Colchester United leading 3-1, setting up an intriguing second half.
The second half was no different, with the lead changing hands multiple times. In the 73rd minute, Arthur Read of Colchester United delivered an awe-inspiring goal from beyond the box, elevating the score to an impressive 5-3. Read's exceptional skill and accuracy were clearly evident in this goal, rendering the goalkeeper completely defenceless.
Notts County refused to back down, showing their fighting spirit. Jodi Jones scored a crucial goal in the 67th minute. This was followed by a header from Macaulay Langstaff in the 90+2nd minute, bringing the score to 5-4.
Despite their best efforts, Notts County couldn't find an equaliser. David McGoldrick had multiple attempts on goal but was unable to convert. Notts County's Kyle Cameron also had a shot saved in the 90+5th minute.
Colchester United had to play the last ten minutes with ten men after Cameron McGeehan received his second yellow card in the 79th minute. Despite being a man down, Colchester managed to hold on for a memorable victory. This showed their resilience and determination, as they defended their lead under immense pressure.
The match was not without controversy, with several contentious decisions made by the referee. Notts County felt aggrieved by some of these decisions, particularly the second yellow card shown to McGeehan. These incidents added an extra layer of drama to an already intense match.
It was an enthralling match that had everything - goals, drama, and controversy. Both teams can be proud of their performances. They displayed great skill and determination throughout the match. However, it was Colchester United who walked away with all three points. Their triumph is a reflection of their prowess, tenacity, and fortitude. This contest will undoubtedly be remembered as one of the season's most thrilling encounters.
Disappointingly, defensive mistakes mean Notts suffer their second loss of the season, but don't be too disheartened. Share your thoughts on the game in our match discussion.
To keep up with all the latest news and Notts County stories, please do bookmark and visit our article section. If you have time, comments are always appreciated.