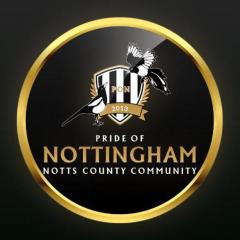 In a recent interview, Dan Gosling, the former Premier League and Championship player, expressed his excitement about joining Notts County. "I feel really happy," he said, "the club is obviously doing really well this season, the stats speak for themselves." Gosling's enthusiasm for his new club is palpable, and his words reflect a player eager to make an impact.
Gosling, who had been waiting for a good opportunity since November, was full of praise for the club and its management. "I've heard a lot of good things about the manager from various people. People speak really highly," he said. His admiration for the manager and the positive feedback he has received from others clearly played a significant role in his decision to join Notts County.
Despite having the option to stay at Watford, Gosling chose to challenge himself at Notts County. "I wanted to challenge, I wanted to sort of be challenging for something, looking into the future as well," he explained. His desire for a new challenge, coupled with his ambition to be part of a successful team, led him to Notts County. He was particularly impressed by the club's performance last season and is eager to be part of a team that's winning and playing good football.
The club's recent signings, including players like David McGoldrick and John Bostock, have also caught Gosling's attention. "It helps looking at the squad and how well they've done, and they've added, it means progression for the club," he said. The addition of such high-calibre players to the squad not only signifies the club's ambition but also provides Gosling with the opportunity to play alongside some of the best in the game.
Gosling, who had a bad injury last year, has been training with the under 21s at Watford and at Wycombe to get some first-team environment under his belt. Now, he's eager to get out on the county ground and start playing some football. "It's just about playing games," he said. His determination to return to the pitch after his injury is commendable, and his eagerness to play is evident.
Despite spending his entire career in the Premier League and the Championship, Gosling is excited about the challenge of playing in League 2. "Did I envisage going to League 2? If I'm honest, no. But here I am, and I'm going to embrace the challenge," he said. His willingness to step out of his comfort zone and take on a new challenge is a testament to his character and determination.
"I couldn't have picked a better place. I'm really happy," Gosling concluded. His words reflect a player who is not only excited about his new journey but also confident in his decision. As he embarks on this new chapter with Notts County, fans and teammates alike will be eagerly anticipating his contributions on and off the pitch.
The Pride of Nottingham relies on the support from the Notts County fan base in terms of helping maintain the site upkeep. if you are in a position please consider donating.
Check out the Pride of Nottingham's popular dashboard page for all the latest across our site, find content from articles, blogs and forum posts. Get involved and share your thoughts today!