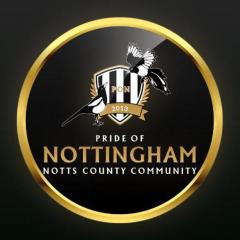 Brace yourselves for yet another showdown tomorrow at the historic Priestfield Stadium. This game is set to be a riveting duel between two teams renowned for their possession football, including your cherished team, Notts County, as they face off against Gillingham.
Gillingham, under the guidance of interim manager Keith Millen, are looking to bounce back from their recent defeat. They will be without Shad Ogie due to suspension, while Tim Dieng remains sidelined with a knee injury. Ashley Nadesan is also likely to miss out due to an ankle injury. However, Scott Malone returns from suspension, bolstering the squad.
On the other hand, Notts County may make changes following their 4-1 defeat to Mansfield last weekend. However, the squad is likely to remain the same with no publicised injury or suspension concerns.
This match holds historical significance for Notts County as it marks their 5000th game in the football league. The club has arranged free travel for their fans, ensuring a cracking atmosphere at Priestfield.
The last time these two teams met was on the final day of the 2014/15 season. Notts County were leading 1-0 going into the closing stages, but Gillingham netted three times in a few minutes to take all three points. The head-to-head record favours Gillingham with 15 wins against Notts County's 10.
Both teams will be looking to improve their possession game. Notts County top the division in terms of possession, with an average of 60% time on the ball. Gillingham's new way forward could look to replicate that of Notts County.
Interim manager Keith Millen shared his anticipation for the upcoming match, expressing that it's set to be a fantastic atmosphere. The game marks their 5000th in the football league, and they've even arranged free travel for their fans. He expressed hope that their players are eager for the match, emphasising that these are the games players should relish.
Luke Williams from Notts County echoed these sentiments, stating that there's still room for improvement in their performance. He acknowledged that they're a team in progress and need more exposure to the division level to stabilise their performances and achieve consistency. He expressed strong confidence in their ability to do so.
As we look forward to this crucial clash, let's rally behind our team and cheer them on to victory. This match is not just another game in the fixture list. 
It's a battle for pride and points. It's about writing history and creating memories. It's about passion and love for the beautiful game. So let's get behind our team and make this day unforgettable. Let's create an atmosphere that will inspire our players and intimidate our opponents. Let's show them what it means to be a part of Notts County. Let's make our 5000th game in the football league a memorable one.
Join us at the Pride of Nottingham and share your passion for Notts County within our community. We are always keen to see fans engage and post their thoughts on the Magpies!
The Pride of Nottingham match discussion is eagerly awaiting fans to leave their thoughts ahead of the game. Join us throughout the match day by sharing your thoughts.