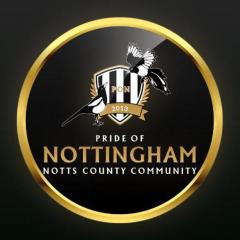 The magic of the FA Cup was in full display at Meadow Lane, as Notts County and Crawley Town battled it out in a match that had everything - goals, drama, and a nail-biting finish. The Magpies emerged victorious, but not without a fight from Crawley Town, who pushed them to their limits in a game that will be remembered for its intensity and high stakes.
The match was played in the spirit of the FA Cup, showcasing the unpredictability and excitement that makes this tournament so beloved by fans across the world. 
Notts County, despite being pushed back on multiple occasions, showed resilience and determination to secure their place in the next round. This victory, while hard-fought, is a reflection of their commitment to the competition and their desire to progress further.
Speaking in the post-match interview, defender Aden Baldwin confessed, "It probably wasn't our best performance... but at the end of the day we got the job done." This candid admission reveals a team aware of its strengths and weaknesses, yet determined to improve.
The game was marked by high pressure and numerous set pieces, testing the mettle of Notts County's defence. Baldwin, however, was quick to praise his team's resilience. He highlighted the character shown by his teammates, especially Connell Rawlinson, in the face of adversity. "We knew they were going to press High... but we showed really good character," Baldwin said, reflecting on the team's performance.
Baldwin also acknowledged the physical toll of the match, joking about the number of balls he had to head away. "I did come here to not head the ball as much but today wasn't the case. We had to put our body on the line, and we did what we needed to do," he said, demonstrating his commitment to the team's success.
Crawley Town, known for their strong team and detailed approach, posed a significant challenge. Baldwin acknowledged this, stating, "We respect them massively, they're similar to us in terms of the way they want to build up and how they want to go about things." Despite this, he expressed pride in how Notts County handled the challenge, demonstrating a spirit of sportsmanship and respect for their opponents.
Looking ahead, Baldwin emphasised the importance of a good cup run. He expressed optimism about the next round, stating, "We're just going to keep going and do what we do, focus on ourselves, play our football and see where that takes us." This sentiment, coupled with the team's recent victory, suggests a promising future for Notts County in the FA Cup.
Baldwin also touched on the team's current injury situation, stating, "These things happen... we've got the characters in the team we got the great staff behind us, so we're just going to get on with it and do what we can." This shows the team's resilience and determination to overcome adversity.
Finally, Baldwin spoke about the importance of leadership within the team. "The gaffer and Macca [Macaulay Langstaff] alluded to it in terms of leaders on the pitch... we're all leaders in there. There's some really good characters behind the scenes that people don't really see and that's going to be massive for us for having a successful season this year," he said. This highlights the strong team spirit and unity within Notts County, which will undoubtedly be crucial in their upcoming matches. 
As Baldwin succinctly put it, "Anyone will do. We don't fear anyone, anyone will do." With this level of determination and focus, Notts County is certainly a team to watch in the upcoming rounds.
What are your thoughts on the FA Cup and the first round win over Crawley Town at Meadow Lane? Join the Pride of Nottingham match discussion and share them with others.
Please stay up-to-date with announcements from within the PON website by checking out our latest updates, which are posted regularly within our forum.